At J&K Cabinetry, we're thrilled to unveil our latest masterpiece that's set to redefine the world of cabinetry – the B-Series. Comprising three distinct door styles – B5 Pure, B6 Pebble, and B7 Naval – this collection is poised to transform your living spaces with its exquisite design and impeccable craftsmanship. Whether you're envisioning a classic, contemporary, or transitional ambiance, the B-Series has something exceptional to offer.
The Perfect Blend of Form and Function
Our B-Series doors are a celebration of timeless elegance and modern innovation. Crafted with precision, each door boasts recessed solid wood panels meticulously constructed with mortise and tenon techniques. This attention to detail ensures longevity, durability, and an unmistakable touch of sophistication.
The full-overlay design of the B-Series is characterized by clean, bold lines and beveled edges, making it an instant focal point in any room. These doors strike the perfect balance between classic charm and contemporary aesthetics, making them a versatile choice that complements various interior styles.
B5 — Pure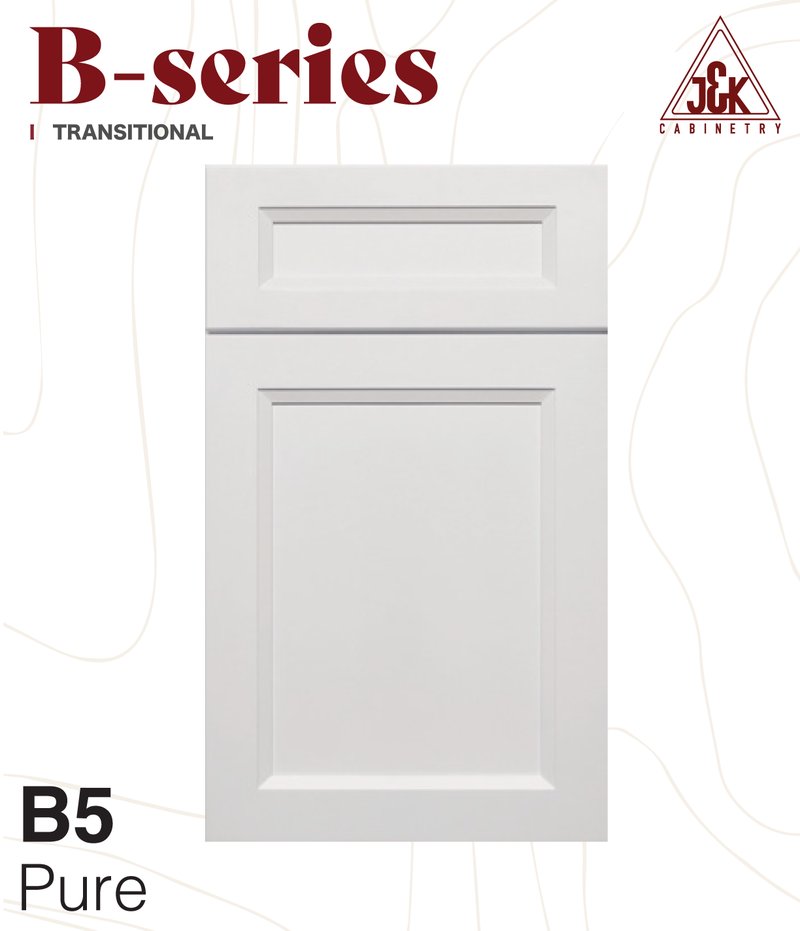 B6 — Pebble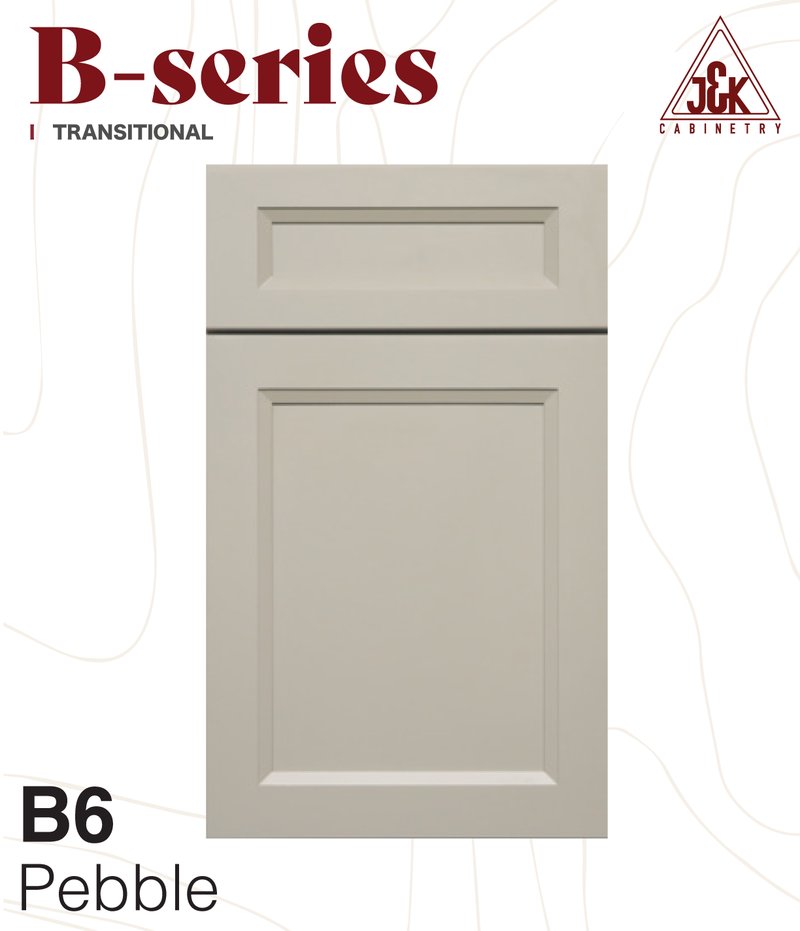 B7 — Naval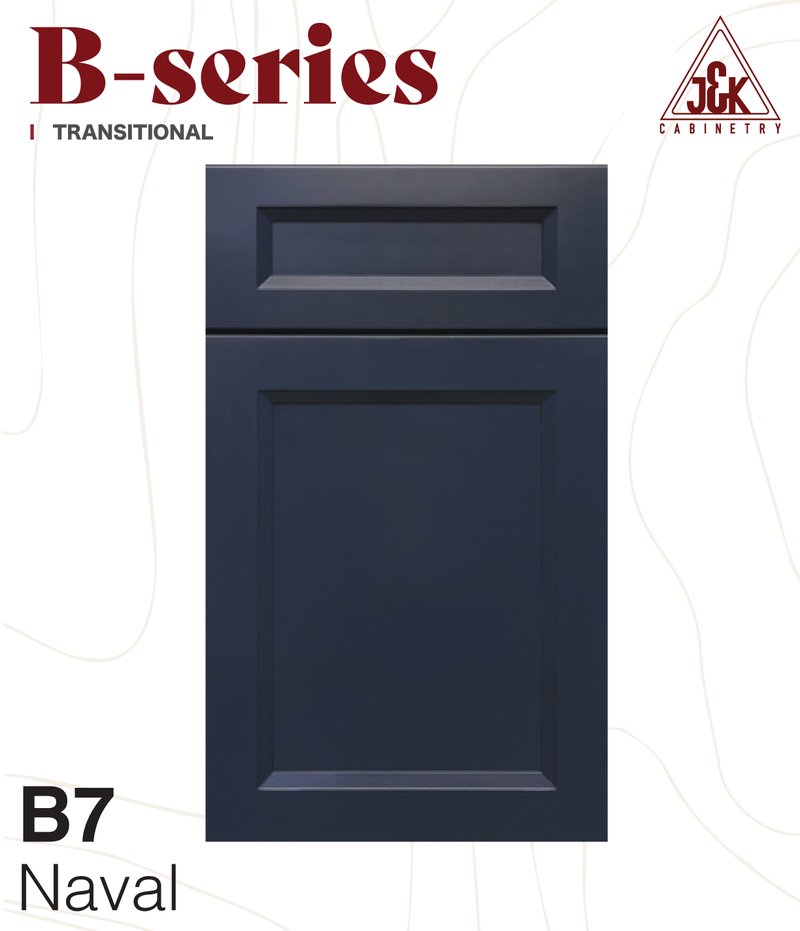 The B-Series introduces a stunning color palette that breathes life into your cabinetry choices. The B5 Pure dazzles in a pristine white finish, infusing your space with a sense of purity and serenity. The B6 Pebble's warm taupe tone exudes comfort and coziness, setting the stage for inviting gatherings. Finally, the B7 Naval dons a rich blue hue that evokes feelings of calmness and depth, making a bold statement that's both refreshing and captivating.
Specifications that Exceed Expectations
Every element of the B-Series has been carefully engineered to deliver exceptional performance and aesthetics:
Door Panel: Each 3/4"-thick solid wood door panel is a testament to elegance and sturdiness, with a full-overlay design that exudes luxury.
Door Hinge: The PIVOT-PRO Clip-On hinge system guarantees smooth operation, while the optional decorative cover (exclusive to the B door style) adds a touch of refinement.
Adjustable Shelf: The 3/4"-thick cabinet-grade plywood adjustable shelves boast a clear coat finish on all sides and edges, along with metal shelf rests for durability and convenience.
Drawer: Crafted with 5/8"-thick solid wood on all sides and dovetail construction, the drawers are a blend of traditional artistry and contemporary functionality.
Drawer Glide: The full extension pull-out, soft-close metal drawer glide system ensures seamless access and quiet closure, with concealed under-mount installation for a sleek look.
Plywood Box: The 5/8"-thick cabinet-grade plywood box features a clear coat finish on interior sides and a matching color finish on exterior sides, showcasing J&K Cabinetry's commitment to quality inside and out.
Metal Bracket: Steel corner bracket reinforcements in base cabinets elevate stability to the highest level, ensuring your cabinetry stands the test of time.
Door Bumpers: Designed for near-silent closing and reduced slamming, our door bumpers enhance durability while maintaining a peaceful environment.
The B-Series from J&K Cabinetry represents a seamless fusion of classic design and modern ingenuity. With its range of color options, impeccable construction, and thoughtful features, this collection is poised to elevate your living spaces like never before.
Whether you're looking to embark on a complete kitchen transformation or seeking to revamp your bathroom with sophistication, the B-Series promises a harmonious blend of aesthetics and functionality that's truly unparalleled.
Explore the B-Series today and experience the epitome of transitional cabinetry excellence.